Ph.D. Researchers in a Changing World: A Self-Critical Reflection of the CES Conference 2017
Alexander James Darracott

Centre for Education Studies, University of Warwick
Keywords:
Reflections, Conferences, Professional Development, Thesis, Presentation, Attendee
Abstract
The theme of this year's Centre for Education Studies Interdisciplinary Postgraduate Conference, now in its fifth year, is 'Education in a Changing World'. I attended the conference as a paper presenter and a conference attendee. My personal goals were to develop confidence as an oral presenter, seek professional development opportunities, and engage critically and reflectively with my work and the work of others.  My relativist epistemological beliefs define knowledge as uncertain, context-bound, fallible, defeasible and therefore changeable, and are compatible with my personal goals. Both the goals and beliefs led to the adoption of knowledge co-constructor, communicator, and analyst roles.  Beliefs, goals and adopted roles led to the identification of points of fallibility in my own knowledge and understanding of the phenomenon of interest. Therefore, I formed a perspective of conferences as enabling and facilitating knowledge construction between presenter and audience. Being reflective, critical, adaptable, creative, intuitive, flexible, and open minded are key attitudinal attributes of postgraduates, leading to positive conference experiences and increased self-awareness of own emerging identity as a social scientist. Increasing self-awareness of own identity is important for graduates, as on a broader scale this assists in keeping pace with an ever-changing world.
Downloads
Download data is not yet available.
References
Baker, V.L. and L.R. Lattuca (2010), 'Development Networks and Learning, toward an Interdisciplinary Perspective on Identity Development during Doctoral study', Studies in Higher Education, 35 (7), 807-27
Clegg, S (2005), 'Theorising the mundane: The Significance of Agency', International Studies on Sociology of Education, 15 (2), 149-64
Chenevix-Trench, G (2006), 'What Makes a Good Ph.D. Student?', Nature, 441 (7090), https://www.nature.com/naturejobs/science/articles/10.1038/nj7090-252b, accessed 18 July 2017
Gadecki, V.L (2001), 'Conventions, Reasons to Attend and Ways to Finance', Science Scope, 24 (6), 24–27
Gardner, S.K. Hayes, M.T. and X.N Neider (2007), 'The Dispositions and Skills of a Ph.D. in Education Perspectives of Faculty and Graduate Students in One College of Education', Innovative Higher Education, 31, 287–99
Greene, M. (2015), A Postgraduate's Guide to Conference Attendance – Survival Tips for Getting you Through the Process, https://www.rgs.org/NR/rdonlyres/E1AC77FD-610E-4B6B-ADC3-C142750867E3/0/GreeneConferenceGuide.pdf, accessed 18 July 2017
Gupta, D. and I. Waismel-Manor (2006), 'Network in Progress: A Conference for Graduate Students', PS: Political Sciences and Politics, 39 (3), 485–90
Haley, K.J. Wiessner, C.A. and E. Robinson (2009), 'Encountering New Information and Perspectives: Constructing Knowledge in Conference Contexts', The Journal of Continuing Higher Education, 57 (2), 72–82
Jazvac-Martek, M (2009), 'Oscillating Role Identities, the Academic Experiences of Educational Doctoral Students', Innovation in Education and Teacher International, 46 (3), 253–64
Klein, P. (1971), 'A Proposed Definition of Propositional Knowledge', The Journal of Philosophy, 73, 792-812
Lehrer, K. (1990), Theory of Knowledge, USA: Westview Press Inc
McAlpine, L., Jazvac-Martek, M. and N. Hopwood (2009)' Doctoral Student Experience in Education, Activities and Difficulties Influencing Identity Development', International Journal for Researcher Development, 1 (1), 97–109
Nerad, M. (2015), 'Professional Development for Doctoral Students: What is it? Why now? Who does it?', Nagoya Journal of Higher Education, 15, 285–318
Rudd, E. Nerad, M. Morrison, E. and J. Picciano (2008), Professional Development for Ph.D. Students, do they really need it? CIRGE Spotlight on Doctoral Education #2. CIRGE, Seattle, WA: University of Washington
Tomazou, E.M. and G.T. Powell (2007), 'Look Who's Talking Too: Graduates Developing Skills through Communication', Nature Reviews Genetics, 8, 724-26
Senese, J.D. (2010), 'The Zen of Annual Meeting Attendance and Conferencing, Administration Publications and Research', Administration Publications and Research, 3. Available at http://scholarsarchive.jwu.edu/admin_publications/3/, accessed 18 July 2007
Skelton, A. (1997), 'Conferences, Conferences, Conferences?', Teaching in Higher Education, 2 (1), 69-72
Vitae (2008), Vitae Researcher Development Statement (RDS) https://www.vitae.ac.uk/vitae-publications/rdf-related/researcher-development-statement-rds-vitae.pdf, accessed 18 July 2017
Vries, B.D. and J. Pieters (2008), 'Knowledge Sharing at Conferences', Education Research and Evaluation: An International Journal on Theory and Practice, 13 (3), 237–47
Wiessner, C.A. Hatcher, T. Chapman, D. and J. Storberg-Walker (2008), 'Creating New Learning at Professional Conferences: an Innovative Approach to Conference Learning, Knowledge Construction and Programme Evaluation', Human Resource Development International, 4, 367–83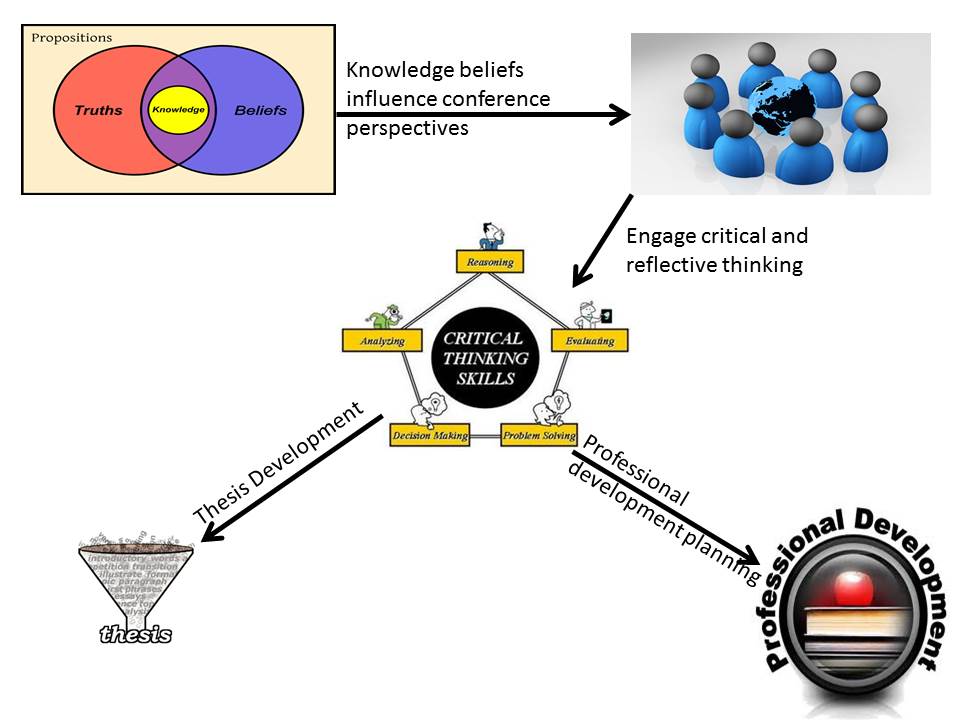 Section
Critical Reflections
Copyright (c) 2017 Alexander James Darracott
This work is licensed under a Creative Commons Attribution-NonCommercial-ShareAlike 4.0 International License.
Authors who publish with this journal agree to the following terms:
Authors retain copyright and grant the journal right of first publication with the work simultaneously licensed under a Creative Commons Attribution License (CC-BY), which permits use and redistribution of the work provided that the original author and source are credited, a link to the license is included, and an indication of changes which were made. Third-party users may not apply legal terms or technological measures to the published article which legally restrict others from doing anything the license permits.
If accepted for publication authors' work will be made open access and distributed under a Creative Commons Attribution (CC-BY) license unless previously agreed with Exchanges' Editor-in-Chief prior to submission.
Authors are able to enter into separate, additional contractual arrangements for the non-exclusive distribution of the journal's published version of the work (e.g., post it to an institutional repository or publish it in a book), with an acknowledgement of its initial publication in this journal.

Authors are permitted and encouraged to post their work online (e.g., in institutional repositories or on their website) prior to and during the submission process, as it can lead to productive exchanges, as well as earlier and greater citation of published work. (see: The Effect of Open Access)