Interview on Experimental Philosophy with Joshua Knobe
Keywords:
Philosophy, experimental philosophy, Joshua Knobe, interview
Abstract
This conversation piece contains an interview with Joshua Knobe. It provides a useful introduction to what experimental philosophy is and the interdisciplinary collaborations it encourages. Pendaran Roberts and Joshua Knobe collaboratively developed this conversation piece via email. Joshua Knobe is a renowned experimental philosopher, who works on a range of philosophical issues, including philosophy of mind, action and ethics. He is a professor in the Program in Cognitive Science and the Department of Philosophy at Yale University. He is most known for what is now called the 'Knobe effect'.
Downloads
Download data is not yet available.
References
De Freitas, J., Tobia, K. P., Newman, G. E., & Knobe, J. (2016). Normative judgments and individual essence. Cognitive Science. URL:http://onlinelibrary.wiley.com/wol1/doi/10.1111/cogs.12364/abstract
Falkenstien, K. (2013). Explaining the effect of morality on intentionality of lucky actions: the role of underlying questions. Review of Philosophy and Psychology, 4, 293-308.
URL: http://link.springer.com/article/10.1007/s13164-013-0135-6
Garfield, J. L., Nichols, S., Rai, A. K., & Strohminger, N. (2015). Ego, Egoism and the Impact of Religion on Ethical Experience: What a Paradoxical Consequence of Buddhist Culture Tells Us About Moral Psychology. The Journal of Ethics, 19(3-4), 293-304. URL: http://link.springer.com/article/10.1007/s10892-015-9210-9
Khoo, J. (2015). Modal disagreements. Inquiry, 58(5), 511-534. URL:http://www.tandfonline.com/doi/abs/10.1080/0020174X.2015.1033005
Kim, M., & Yuan, Y. (2015). No cross-cultural differences in the Gettier car case intuition: A replication study of Weinberg et al. 2001. Episteme, 12(03), 355-361. URL:
http://journals.cambridge.org/action/displayAbstract?fromPage=online&aid=9884621&fileId=S1742360015000179
Knobe, J. (2003). Intentional action and side effects in ordinary language. Analysis, 63, 190-193. URL: http://onlinelibrary.wiley.com/doi/10.1111/1467-8284.00419/abstract
Knobe, J. (forthcoming). Experimental Philosophy is Cognitive Science. In Sytsma, J. & Buckwalter, W. (eds.) A Companion to Experimental Philosophy. Blackwell.
Knobe, J. (2015). Philosophers are doing something different now: Quantitative data. Cognition, 135, 36-38. URL: http://www.sciencedirect.com/science/article/pii/S0010027714002315
Newman, G. E., Bloom, P., & Knobe, J. (2013). Value judgments and the true self. Personality and Social Psychology Bulletin, 40, 203-216. URL: http://psp.sagepub.com/content/early/2013/10/22/0146167213508791.abstract
Newman, G. E., De Freitas, J., & Knobe, J. (2015). Beliefs about the true self explain asymmetries based on moral judgment. Cognitive Science, 39(1), 96-125.
URL: http://onlinelibrary.wiley.com/doi/10.1111/cogs.12134/full
Nichols, S. (2004). Is religion what we want? Motivation and the cultural transmission of religious representations. Journal of Cognition and Culture,4(2), 347-371.
Nichols, S. (2002). On the Genealogy of Norms: A Case for the Role of Emotion in Cultural Evolution. Philosophy of Science, 69, 234-255. URL: http://www.journals.uchicago.edu/doi/10.1086/341051
Ripley, D. (2009, July). Contradictions at the borders. In International Workshop on Vagueness in Communication (pp. 169-188). Springer Berlin Heidelberg.
URL: http://link.springer.com/chapter/10.1007/978-3-642-18446-8_10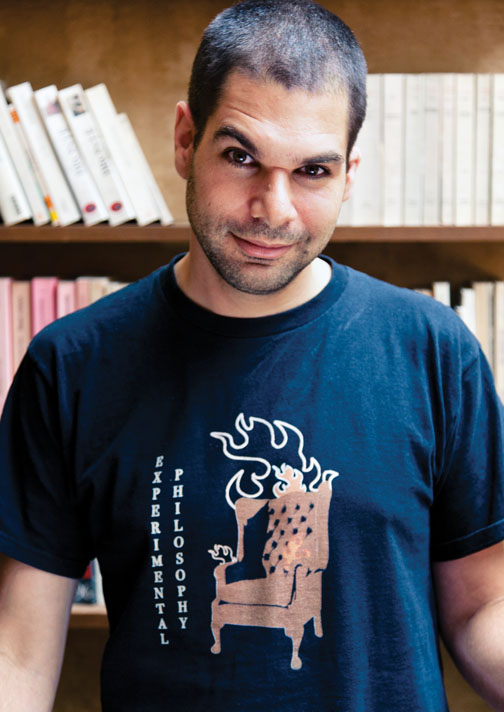 Downloads
Section
Conversations with...
License
Authors who publish with this journal agree to the following terms:
Authors retain copyright and grant the journal right of first publication with the work simultaneously licensed under a Creative Commons Attribution License (CC-BY), which permits use and redistribution of the work provided that the original author and source are credited, a link to the license is included, and an indication of changes which were made. Third-party users may not apply legal terms or technological measures to the published article which legally restrict others from doing anything the license permits.
If accepted for publication authors' work will be made open access and distributed under a Creative Commons Attribution (CC-BY) license unless previously agreed with Exchanges' Editor-in-Chief prior to submission.
Authors are able to enter into separate, additional contractual arrangements for the non-exclusive distribution of the journal's published version of the work (e.g., post it to an institutional repository or publish it in a book), with an acknowledgement of its initial publication in this journal.

Authors are permitted and encouraged to post their work online (e.g., in institutional repositories or on their website) prior to and during the submission process, as it can lead to productive exchanges, as well as earlier and greater citation of published work. (see: The Effect of Open Access)