Oliver Sacks
Julie Walsh

University of Warwick
Abstract
Renowned neurologist and author Dr Oliver Sacks is a visiting professor at the University of Warwick as part of the Institute of Advanced Study. Dr Sacks was born in London. He earned his medical degree at the University of Oxford (Queen's College) and the Middlesex Hospital (now UCL), followed by residencies and fellowships at Mt. Zion Hospital in San Francisco and at University of California Los Angeles (UCLA). As well as authoring best-selling books such as Awakenings and The Man Who Mistook His Wife for a Hat, he is clinical professor of neurology at NYU Langone Medical Center in New York. Warwick is part of a consortium led by New York University which is building an applied science research institute, the Center for Urban Science and Progress (CUSP). Dr Sacks recently completed a five-year residency at Columbia University in New York, where he was professor of neurology and psychiatry. He also held the title of Columbia University Artist, in recognition of his contributions to the arts as well as to medicine. He is a fellow of the Royal College of Physicians and the Association of British Neurologists, the American Academy of Arts and Sciences, and the American Academy of Arts and Letters, and has been a fellow of the New York Institute for the Humanities at NYU for more than 25 years. In 2008, he was appointed CBE.
References
Photo: Elena Seibert www.elenaseibert.com

More information on Oliver Sacks' work is available at www.oliversacks.com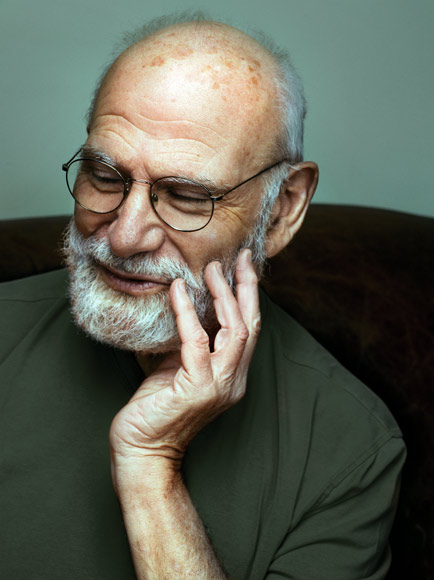 Section
'Exchanges' - Conversations with...
This work is licensed under a Creative Commons Attribution-NonCommercial-ShareAlike 4.0 International License.
Authors who publish with this journal agree to the following terms:
- Authors retain copyright and grant the journal right of first publication with the work simultaneously licensed under a Creative Commons Attribution Non-Commercial Share Alike License that allows others to share the work with an acknowledgement of the work's authorship and initial publication in this journal, providing it is not used for commercial purposes and any derivative work is shared with the same license.
- Authors are able to enter into separate, additional contractual arrangements for the non-exclusive distribution of the journal's published version of the work (e.g., post it to an institutional repository or publish it in a book), with an acknowledgement of its initial publication in this journal.
- Authors are permitted and encouraged to post their work online (e.g., in institutional repositories or on their website) prior to and during the submission process, as it can lead to productive exchanges, as well as earlier and greater citation of published work (See
The Effect of Open Access
).