The Contribution of Student Leadership to School Transformation
Abstract
This paper reports preliminary findings from case study research in three English secondary schools where a new or recently appointed head has incorporated stakeholder engagement as a key part of their improvement strategy. In each school, developments initiated independently by each head in relation to student leadership are reported. These appear to be re-thinking the boundaries of current practice in relation to student voice, particularly with respect to developing the leadership role of students as agents of change and in beginning to extend that beyond the school into their communities.The research focuses on seeking to understand the processes of change in each case. The models and practices adopted by each head in implementing change are analysed and the effects of this experience, as reported by the students, are considered. Initial findings highlight factors that appear to contribute to successful developments, and the paper concludes with suggestions for further research and investigation to confirm this.
Keywords
Student voice, student leadership, stakeholder engagement, school transformation
Downloads
Download data is not yet available.
References
Bryk, A. S., & Schneider, B. (2002). Trust in schools: A core resource for improvement. New York: Russell Sage Foundation.
Cook-Sather, A. (2006). Sound, presence, and power: 'Student voice' in educational research and reform. Curriculum Inquiry, 36(4), 359–390.
Czerniawski, G. (2012). Repositioning trust: a challenge to inauthentic neoliberal uses of pupil voice. Management in Education, 26(3), 130-139.
Day, C., Sammons, P., Hopkins, D., Harris, A., Leithwood, K., Gu, Q., Brown, E., Ahtaridou, E. and Kington, A. (2009). The Impact of School Leadership on Pupil Outcomes; DCSF Research Report RR108; University of Nottingham.
DfE (2010). The Importance of Teaching Schools White Paper:
http://www.education.gov.uk/schools/toolsandinitiatives/schoolswhitepaper/b0068570/the-importance-of-teaching
Fernández, W. D. (2004). The Grounded Theory Method and Case Study Data in IS Research: Issues and Design. Information Systems Foundations Workshop: Constructing and Criticising, Vol. 1: 43-59. School of Business and Information Management, Faculty of Economics and Commerce, Australian National University: Canberra, Australia.
Fielding, M. (2006). Leadership, radical student engagement and the necessity of person‐centred education. International Journal of Leadership in Education, 9(4), 299-313.
Fielding, M., & Rudduck, J. (2002). The transformative potential of student voice: confronting the power issues. In Annual Conference of the British Educational Research Association, University of Exeter, England (pp. 12-14).
Goddard, R. D. (2003). Relational Networks, Social Trust, and Norms: A Social Capital Perspective on Students' Chances of Academic Success. Educational Evaluation and Policy Analysis, 25, 59-74.
Hallinger, P. (2011). Leadership for learning: Lessons from 40 years of empirical research. Journal of Educational Administration, 49(2), 125-142.
Hallinger, P., & Heck, R. (2003). Understanding the contribution of leadership to school improvement. In Wallace, M. & Poulson, L. Learning to read critically in educational leadership and management. Sage: 215-235.
Harper, R. and Kelly, M. (2003). Measuring Social Capital in the United Kingdom. London, Office for National Statistics.
Lavery, S. D., & Hine, G. S. (2012). Principals: Catalysts for Promoting Student Leadership. Principal Matters.
Leithwood, K., & Riehl, C. (2005). What do we already know about educational leadership. A new agenda for research in educational leadership, 12-27.
Lilley, R. (2010); Problematising student leadership. Doctoral dissertation, Unitec Institute of Technology.
McGregor, J. (2007). Recognizing student leadership: schools and networks as sites of opportunity. Improving Schools, 10(1), 86-101.
Mertkan-Ozunlu, S. and Mullan, J. (2007); 'Students as Agents of Educational Leadership: Case Study of a Specialist Media Arts School', paper presented in ECER, Ghent.
Mitra, D.L. (2009); Collaborating with Students: Building Youth‐Adult Partnerships in Schools. American Journal of Education, Vol. 115, No. 3 (May 2009), 407-436.
Moloi, K.C., Dzvimbo, K.P., Potgieter, F.J., Wolhuter, C.C. and van der Walt, J.L. (2010); Learners' perceptions as to what contributes to their school success: a case study. South African Journal of Education Vol. 30:475-490.
Ransom, S. (2000): Recognising the pedagogy of voice in a learning community, Educational Management and Administration, 28(3), 263–279.
Robinson, C., & Taylor, C. (2013). Student voice as a contested practice: Power and participation in two student voice projects. Improving Schools,16(1), 32-46.
Rudduck, J., Chaplain, R. & Wallace, G. (1996). School improvement: what can pupils tell us? London, David Fulton.
Rudduck J. & Fielding, M. (2006): Student voice and the perils of popularity. Educational Review, 58:2, 219-231.
Thomson, P. (2012). Understanding, evaluating and assessing what students learn from leadership activities: student research in Woodlea Primary. Management in Education, 26(3), 96-103.
Thomson, P. and Gunter, H. (2006); From 'consulting pupils' to 'pupils as researchers': a situated case narrative. British Educational Research Journal Vol. 32, No 6, 839–856.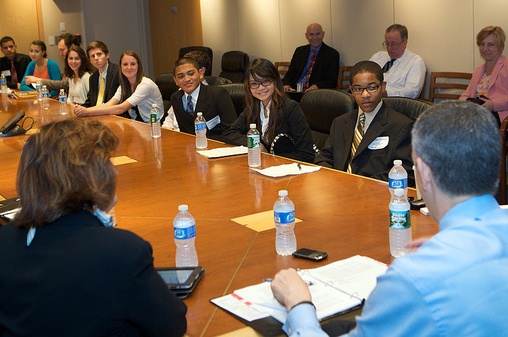 Section
Issue 1 Themed Section: In Schools
License
Authors who publish with this journal agree to the following terms:
Authors retain copyright and grant the journal right of first publication with the work simultaneously licensed under a Creative Commons Attribution License (CC-BY), which permits use and redistribution of the work provided that the original author and source are credited, a link to the license is included, and an indication of changes which were made. Third-party users may not apply legal terms or technological measures to the published article which legally restrict others from doing anything the license permits.
If accepted for publication authors' work will be made open access and distributed under a Creative Commons Attribution (CC-BY) license unless previously agreed with Exchanges' Editor-in-Chief prior to submission.
Authors are able to enter into separate, additional contractual arrangements for the non-exclusive distribution of the journal's published version of the work (e.g., post it to an institutional repository or publish it in a book), with an acknowledgement of its initial publication in this journal.

Authors are permitted and encouraged to post their work online (e.g., in institutional repositories or on their website) prior to and during the submission process, as it can lead to productive exchanges, as well as earlier and greater citation of published work. (see: The Effect of Open Access)