Current Issue
Vol 5 No 1 (2017): October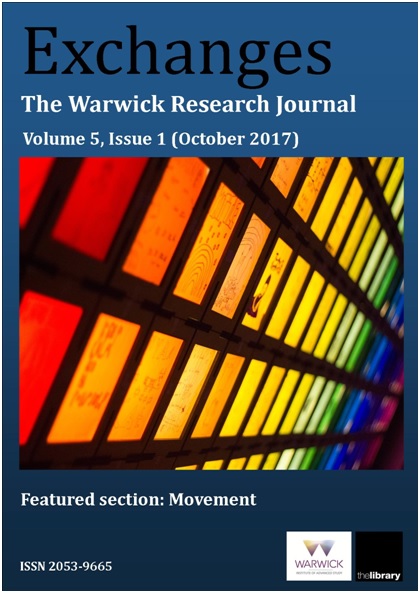 The October 2017 edition features conversations with Professor Denise Schmandt-Besserat, a renowned archaeologist and expert on token, and Professor Bill Maurer, a renowned cultural anthropologist, and with Professor David Greenwood, who leads the Advance Propulsion System team at Warwick Manufacturing Group and has a wealth of experience in the automotive industry. There is also a themed section on Movement.
Full Issue
View All Issues
The journal is Diamond Open Access (without any article processing charges), and is published in October and April each year.

ISSN 2053-9665
---
CALL FOR PAPERS: Vol 6(1), October 2018
Exchanges: The Interdisciplinary Research Journal is the peer-reviewed, open access, interdisciplinary research journal hosted and managed by the Institute of Advanced Study (IAS), University of Warwick. We invite high-quality interdisciplinary submissions from researchers at all stages of their careers in all academic fields, but especially from emerging domain experts and early career researchers.
For the October 2018 edition, we particularly welcome submissions which will contribute to a themed section on 'Autonomy'. Autonomy is the right or condition of self-government ('autonomos' means 'having its own laws'). It therefore suggests freedom and independence, for example, of an atom, an organism, an object, the self (the mind and the body), a community (especially of minorities), an organisation, a government, and a country/nation/region. How can autonomy be achieved? By votes, negotiations, wars, and technology? How can autonomy be understood in this increasingly interconnected, interactive, interdependent, globalised world? Does autonomy promote or hinder social equality? In the specific context of research, what does the autonomy of each discipline mean, especially in inter/multi-disciplinary and collaborative research? How does current research environment impact the autonomy of research and researchers?
Submissions which do not engage with the theme of 'Autonomy' are also welcome.
We publish a variety of content:
Conversation (3-5,000 words)
Interviews with leading academics
Articles (5-6,000 words)
Review Articles (3-5,000 words)
Critical Reflection (1-3,000 words)
Reflection on a conference, symposium or workshop
Shorter, focused discussion of emerging research
Highlights of important research in your field and its significance
Book reviews
Please submit online by 31 May 2017. If you have any queries, please email the Senior Editor at exchangesjournal@warwick.ac.uk, or any member of the Editorial Board.
---